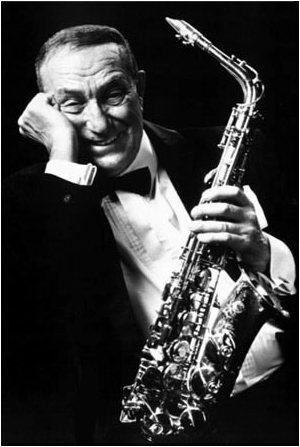 Piet Noordijk studied at the Rotterdam Conservatory between 1950 and 1954. He graduated cum laude on clarinet. On alto saxophone, he is self-taught.
In the beginning of the Fifties, Noordijk (1932) got hooked on jazz music. His main influence was Charlie Parker. During the German occupation it was forbidden to listen to jazz music in public. That didn't prevent Noordijk's elderly brothers from playing jazz at home. Music was what kept the Noordijk family going. After the war, Piet started studying the clarinet at the Rotterdam Conservatory. To his disappointment, he couldn't play jazz at the Conservatory. He had to wait until the Fifties, when he started playing in nightclubs, with a varied repertoire. He got more and more studio jobs, and he ended up working as a studio musician. In the Sixties, Noordijk played with the legendary Misha Mengelberg/Piet Noordijk Kwartet. He still considers the concert they gave at the Newport Jazz Festival to be a milestone in his carreer. In 1965 he was awarded the Wessel Ilcken Award, an important jazz award in The Netherlands.
In the Seventies Piet Noordijk worked with all kinds of bands. In 1978 he became lead alto player with the Metropole Orchestra, and a much sought-after soloist. He played under conductors such as Enrico Morricone, Robert Farnon, Rogier van Otterloo, Jerry van Rooyen, Rob Pronk and Henk Meutgeert. He remained with the orchestra until 1992. He was also a frequent guest with other (television) orchestras like The Skymasters and The Ramblers.
During the North Sea Jazz Festival 1987 Piet Noordijk was awarded with the presitigious Bird Award. The jury called him 'an alto and clarinet player without a peer in Dutch post war jazz music'.
August 2000 he was a guest at the ''Charlie Parker Jazz Festival'' in New York. March 2001 Piet performed with his quintet in Capetown, South Africa.
Today, he mainly plays standards with his own quartet. A few years ago, he recorded his CD Piet Plays Sinatra! (Munich Records). Despite his admiration for Charlie Parker, Parker's wild way of living didn't appeal to him.
Piet Noordijk played with: Thad Jones, Johnny Griffin, Ben Webster, Ted Curson, Lee Konitz, Phil Woods, Oliver Nelson, Ronald Hanna, Les McCann, Clark Terry, Kenny Clarke, Slide Hampton, Herb Geller, Charles McPerson, Dextor Gordon, Ferdinand Povel, Ack van Rooyen, Hank Mobley, Buddy Tate, All Cohn, Lew Tobackin, Teddy Edwards, Toots Thielemans, Bob Brookmeyer, Bill Perkins, Don Bias, Buddy De Franco, Hank Jones, Maynard Ferguson, All Grey, Marshall Royal, Peter King, Benny Carter, Eddy Daniels, Gary Peacock, Wynton Marsalis, Ray Brown, Philippe Catherine, Tony Bennet, Billy Eckstein, Ack van Rooyen, Marc Murphy, Nina Simone, Betty Carter and John Engels.
comments powered by

Disqus